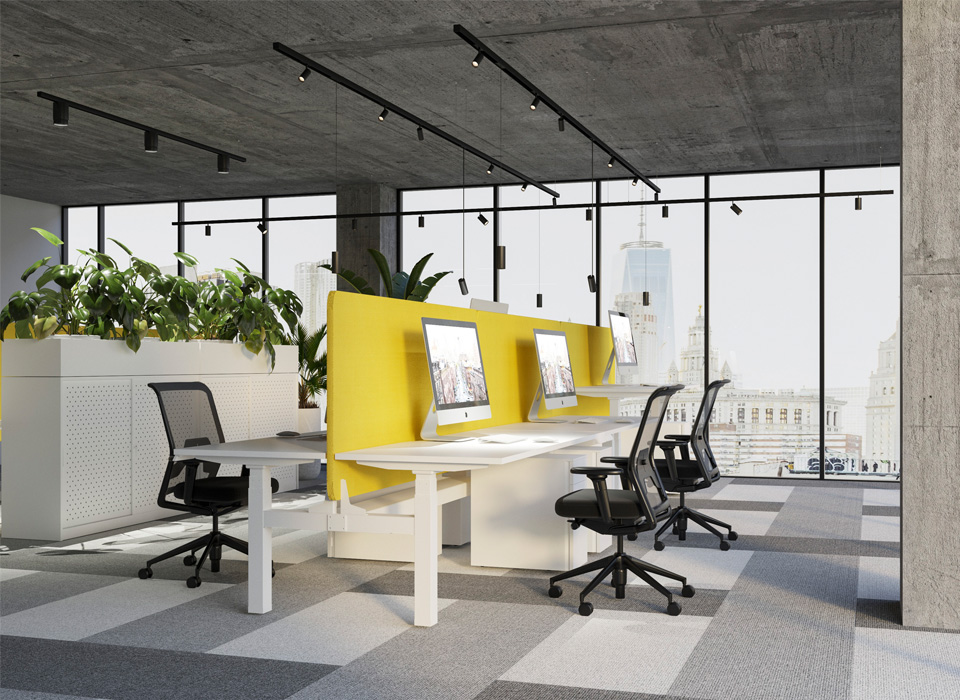 HiSPACE | ELEVATE YOURSELF
Wednesday, 21 August 2019
Elevate yourself with our new HiSpace range; an adjustable height, electric workstation frame that allows the user to alternate between sitting and standing, giving greater comfort and flexibility in the way we work.
Clever design
HiSpace holds the ability to blend seamlessly into any office landscape, due to its subtle design. Appearing as an ordinary piece of furniture at first glance, HiSpace surprises with innovative technology and ergonomic sit-stand design. The sleek square legs are finished with adjustable levelling feet, ensuring that desks remain balanced on uneven surfaces.
Choose a custom desktop finish to suit the fit-out, or enquire about additional powdercoat colours.
Smooth operator
Adjust the desktop upwards or downwards at the touch of a button. Featuring a smooth and quiet operation across the range, from single motor to 3 motor lift. Keep your desk the way you like it with the 4-position preset controller with digital display, allowing you to quickly move to one of your preferred working heights.
Built for functionality
With employee health and well-being at the forefront of modern office design, HiSpace is the modern solution. The sit-stand design works to eliminate strain and helps keep your body moving, promoting increased energy and relief from fatigue.
Benefits of an adjustable desk include:
Improved energy & mood – Research has shown a link between increased sedentary time and depression/anxiety. The recent Stand Up To Work study in 2018 proves that switching your working position to standing regularly can improve mood and increase happiness levels.
Boosted productivity – As productivity tends to improve with mood, a happy and positive mindset is likely to improve productivity and mental alterness. Standing regularly throughout the working day relieves the strain from your back, shoulders and neck, helping you to function more efficiently.
Improved health & well-being – The adjustable height workstation discourages the sedentary lifestyle that has been linked to an increase in cardiovascular events and heart disease, weight gain, spikes in blood sugar, diabetes and other health complications. The Heart Foundation recommends a rotation in standing and sitting tasks across your working day to promote movement.
HiSpace is available in a straight (single or dual motor), back-to-back, 90° or 120° frame.