ACOUSTICS IN OFFICE DESIGN
Wednesday, 25 September 2019
Office design is a complex process with many considerations.
As the open plan or 'free range' office trend continues to grow in 2019, workplace acoustics are an important factor that is often overlooked
. While an environment built on collaboration has its benefits, it also brings some challenges. I
ncreased
noise levels and distraction are two factors that
greatly
impact employee productivity, something that is almost unavoidable in a busy, open plan space.
Luckily, there are solutions to balance out these collaborative office designs.
Sound absorbing materials
Workspaces teaming with people create noise. As noise levels rise, so to do our voices. One way to lower excess noise is through soft, absorptive surfaces.
These can include acoustic wall and ceiling panels, plush flooring (e.g. carpet), acoustic workstation screens and soft furnishings
. Even
strategically
placed plants (the bigger the better) can be used to help absorb sound, due to their dynamic surface area.
Because these options are
widely
available in a multitude of designs, colours and styles, they can be
easily
integrated to any office space without sacrificing aesthetics or function
. 
Our Ausfile Sliding Door Cabinet with sound acoustic panelling not only helps to reduce excess office noise, but can also
be used
to partition work areas
. Adding a planter box can add privacy and visual interest.
Ausfile Sliding Door Cabinet – View Now
Planter Box – View Now
Clever design & layout
A well-designed office should contain a variety of spaces with the right level of sound absorption
.
In terms of
layout, this means making sure there are dedicated quiet rooms that are 
easily
accessible. Conference and common rooms should
be located
away from open work areas. Workstations should
be fitted
with low height screens to discourage raising voices.
Locating staff who need to be on the phone often, away from those working on complex tasks, can also assist in reducing distraction
.
The aim is not to block out all noise completely, but to moderate it.
Our Ezetek screens are a 30mm screen system, custom made to suit any specification. These screens provide privacy, partition workspaces and are available in a range of configurations, styles and prints to be integrated into any design. Simply add, remove or move screens to accomodate any layout changes.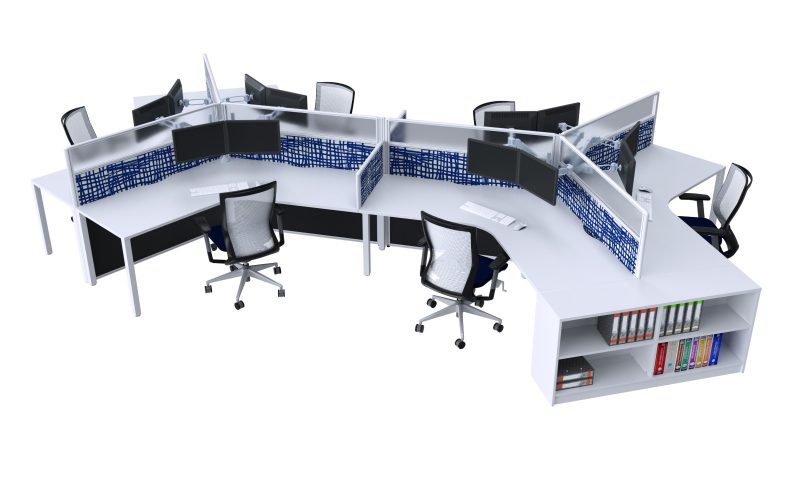 Simple behaviours & good habits
Simple behaviours and habits can be implemented by staff to reduce office noise. These can include speaking in a low voice, prohibiting the use of speaker phones at desks or collaboration spaces and closing surrounding doors to avoid noise spill.
Acoustics are fast becoming a huge factor in designing modern and functional office spaces. As the office landscape continues to evolve and change, so to will the way we think about designing these spaces. Keeping acoustic solutions at the forefront of the design process will result in smarter, quieter and more functional work spaces.