THE POST-COVID WORKSPACE
Wednesday, 24 June 2020
There's no doubt that COVID-19 has heavily impacted the office landscape as we know it. With a staggering number of employed Australians working from home since the beginning of the global pandemic, companies have been left to reconsider their planning paradigms.
As restrictions ease and Australians start to return to the workplace, a new normal will need to be established. In a time where hygiene and safety are top priority, managing office flow will be a crucial part of the recovery process. But how will it shape the future of workspace design?
What will the post-COVID workspace look like?
The 'post-COVID workspace' will see a shift from layouts driven by density and costs. While this past decade has favoured flexible, open plan and agile workspaces, workers may see a return to a more divided office.
Where the focus was on maximising real estate, cutting costs and minimising space allocation, we must now put adaptability before performance
.
Existing workspaces will reconfigure to accommodate social distancing, while new fit-outs will be designed to adapt to a new way of life
.
Planning for a post-COVID workspace
Form and function are the winning formula for designing productive shared spaces, where the main goal is to decongest the workspace. To allow more space to be allocated per person, offices may need to re-orient desks and install higher privacy screens. Storage and other partitioning equipment may be spread out further to create wider walkways.
Ezetek30 Screen System
Assigned seating may need to under taken, with a detailed floor plan indicating the maximum capacity per floor or department. In communal areas such as meeting and collaboration rooms, extra seating may be removed to keep gathering to a minimum. Reception and other public spaces may also re-adjust spacing and limit furniture to further encourage social distancing.
Individual use of office equipment will be encouraged. In addition, reducing the sharing of supplies can be possible with the use of personal storage solutions.
AusFile Mobile Caddy & Pedestal
Commercial office spaces will take cues from healthcare design, through the specification of easy clean surfaces and Crypton fabrics. Finishes such as steel and melamine will be favoured for their durability and anti-microbial properties.
Key drivers in post-COVID workspace design
While short term fixes such as re-orienting furniture and creating physical barriers are a start, factoring our ever changing environment into the way we design spaces will be the crucial long term solution. Although we have made great strides in creating sustainable workspaces that promote health and wellness, designing a post-COVID workspace brings additional challenges.
One of the responsibilities workspace designers have in designing healthier workspaces is through materials. Specifying natural materials for surfaces and furnishings that are easily cared for and provide a connection to the natural world, are ideal for promoting health and wellness in the workplace.
In addition to increased cleaning measures, a safer workspace can be achieved by reducing the amount of touch points an employee will come into contact with throughout the day. Common touch points include door handles, panels, handrails, taps and bins. By addressing common touch points through clever design, workspaces can be built safer and will stand up to future environmental disruptions.
Biophillic design and architecture is a trend that will continue to grow strong. Integrating plants into workspace design, whether through furnishings or architecture, can provide a range of benefits, in addition to improving air quality and the enhanced productivity of employees.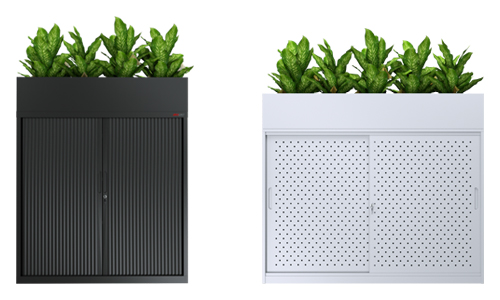 AusFile Tambour Cabinet & Sliding Door Cabinet
Another consideration is air quality. Well designed and maintained systems that produce healthy indoor environments where pathogens can be filtered effectively, through both air quality and plumbing, are vital to the post-COVID workspace.

While heading back to work will restore a sense of normalcy for many, the office landscape has been forever changed. While there is no urgency to return to where we were in 2019, our changing environment has given us a chance to adapt, re-evaluate and re-invent the future of workspace design. With the knowledge we now have, we can be empowered to create spaces that are healthier, safer and more flexible to new ways of working.