DESIGN A MORE PRODUCTIVE WORKSPACE
Wednesday, 28 August 2019
The office landscape has changed
greatly
over the past 20 years. Once a vast wasteland of cubicles, this past decade has seen a shift in the way we design our work spaces. 
The modern office is now a flexible space where form and function become one.
With a greater focus on employee health, happiness and well-being, our desire for a more productive workspace remains the same.
We have never been more aware of how our working environment impacts on our ability to be the most productive we can be
. Setting up the right space for your business is important, and there is no cookie cutter solution.
A tailored, efficient layout
The energy of a space can have a huge impact on productivity.
The layout of your office impacts upon employees and visitors alike, so it is important to set your team up for success from day one
. A researched and well thought out space is much more likely to increase productivity.
Productive workspace design should reflect
 the nature of the business and what is trying to
be achieved
.
Some businesses may, for example, need to
implement
a flexible workspace if they have a lot of part time or remote employees
. Others may need a mix of quiet spaces and areas for collaboration. These judgements can create a balanced workspace that keeps productivity at the forefront.
Evaluating the needs of your business and the type of staff you
employ
will you give you a good starting point of how to best design your office space
.
Quiet Spaces within an office space can be beneficial 
Working environment
It is well known that our environment effects our health, happiness and productivity at work
.
A
2015 HUMAN SPACES study
on '
The Global Impact of Biophilic Design in the Workplace', 
found that the top 3 elements most wanted in the office were natural light (44%), indoor plants (20%) and quiet working spaces (19%)
.
Lighting – 
A space with plenty of natural light and good air circulation can do wonders for productivity
.
In addition
to natural lighting, task lighting should
be implemented
where needed.
Sound – 
Office noise can sometimes be unavoidable, even with a great layout.
Soft furnishings and privacy screens can be
strategically
placed to help absorb some of that excess noise and keep workers focused
.
With quiet spaces available, such as conference rooms or break out spaces, this problem is
easily
solved
.
Plants – 
We are
naturally
wired to connect with nature. Adding plants is a great way to improve workspaces and productivity.
Not only do plants add visual interest to the workspace, but they also assist in reducing stress levels
. They are also easy to integrate in
a number of
ways (s
ee our post on 
Benefits of Plants in the Workplace
here)
Organization – 
A cluttered workspace is a cluttered mind.
A clean and organised workspace will make it easy for workers to
quickly
access what they need
in order to
stay focused on tasks
.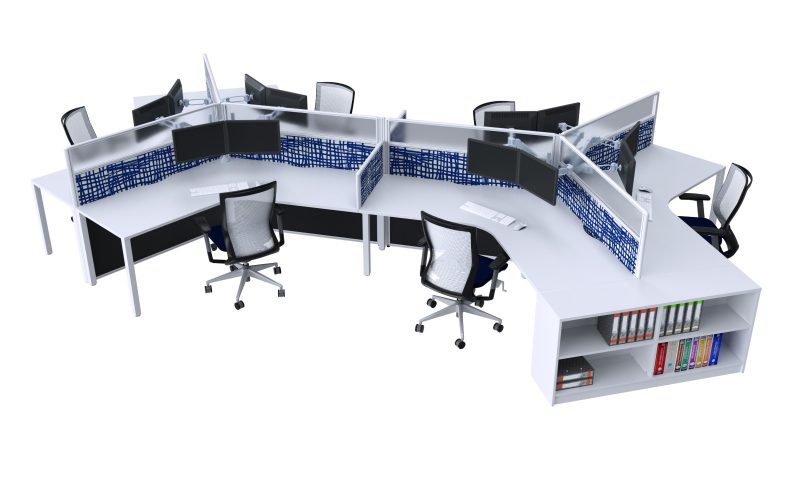 Our custom made Ezetek Screen Systems are designed to provide flexibility, privacy & organisation
Smart furniture
Flexible or multi-function furniture is key in any efficient office design.
Whether focused, individual or collaborative team work
is needed
, flexible office furniture can provide employees with what they need, when they need it
.
Adjustable desks are an obvious choice for the modern office. S
it-stand motion capability keeps workers moving, improving circulation and mind clarity while boosting productivity in the user
.
Other traits of smart office furniture include integrated technology. 
It is also wise to invest in flexible furniture to accommodate the business as it grows or changes.
HiSpace Height Adjustable Desks                     iSpace Sabre Meeting Table with Powerbox
Multipurpose AusFile Steel Storage: Sliding Door Cabinet, Tambour Cabinet, Mobile Pedestal & Mobile Caddy
Technology
Technology is at the core of any business in 2019, with agile or activity based working on the rise. Much of our workplace productivity stems from innovation.
Staff not only need a working environment fit for purpose, but they also need the tools to work
efficiently
.
Workspace planning and furniture decisions impact a workers ability to use their technology. There is often a disconnect between workspace and technology that can reduce productivity. The right technology enables flexibility, leading to enhanced collaboration and productivity.
Careful planning ensures that each role has the technology needed to get the job done.
Identifying the needs of employees, in line with the
overall
business goals, ensures that technology
is integrated
effectively
.
The goal is not to
eliminate
face-to-face interaction, but rather to streamline communication and keep the balance
.
Technology also gives businesses more flexibility in allowing staff to work from anywhere.
Laptops, tablets and smartphones are great examples of wireless technology, used to collaborate within these settings
.